Getting your brakes inspected and replaced as needed is an important part of taking care of your vehicle and ensuring you get where you need to go safely. After all, your brakes have a big job to do: bringing your car to a sure-footed stop!
If you suspect your vehicle needs brake repair, you can count on the dedicated service team at Fred Beans Nissan for thorough attention to your car's braking system. Learn more about our brake repair services and how to know if your brakes are due for an inspection below. 
Symptoms of Brake Issues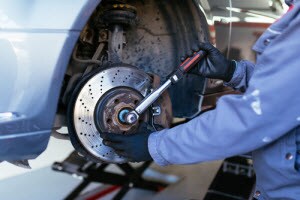 When your brakes need care, they'll let you know. Keep an eye and an ear out for these common symptoms that the function of your brakes may be wearing thin:
Screeching or Grinding-Probably the most alarming and obvious sign that your brakes need attention is hearing a shrill sound when you put your foot on the brake pedal to stop.
Pulling While Driving-If you feel your vehicle leaning or pulling more to one side than the other while applying the brakes, you'll want to get your car in for a check-up ASAP.
Shaking Steering Wheel-A trembling steering wheel or vibrating brake pedal is another tell-tale sign of brake woes you'll want to get taken care of right away.
Mushy Pedal-If you apply pressure to your brakes and the pedal has a different feel, often described as soft or mushy, there could be excess air in your brake lines.
Lit Brake Warning Light-Your vehicle's dashboard has a system built right in for alerting you of problems with different parts of your car. If you see the word BRAKE illuminate on your dash, get your car looked at by a professional as soon as you can. 
Schedule Service
If you've noticed any of the warning signs that your brakes need repair above, contacting a local service provider staffed by knowledgeable technicians is key. For drivers in Doylestown, Philadelphia, and Warminster, that provider is the Fred Beans Nissan Service Team.
Our trained and certified automotive experts know your vehicle's brakes inside and out. They'll carefully inspect the state of your brakes, quickly diagnose the issue, and get a quality repair in place using genuine parts. To get your vehicle brake repair, don't wait! Schedule an appointment with us today.