After you've spent a day slugging away at the office, you've got to make sure your sedan will pull out all the stops to thrill you on the roads of Doylestown, Philadelphia, and Warminster.
When you're soaring down the road with either the 2018 Nissan Altima or the 2018 Honda Accord, you'll have access to plenty of tools to keep you engaged. When it comes to overall sporty handling and class-leading technology, though, one of these sedans crosses the finish line first.
To see which automobile wins this face-off, let's dive into this 2018 Nissan Altima vs. 2018 Honda Accord vehicle comparison created by the team at Fred Beans Nissan. After reading this comparison, feel free to contact us with any questions.
2018 Nissan Altima

2018 Honda Accord

Horsepower

270 horsepower

252 horsepower

Front Headroom

40 inches

39.5 inches

Front Legroom

45 inches

42.3 inches

Grille

Active Grille Shutters

No Active Grille Shutters

Fuel Tank Capacity

18 gallons

14.8 gallons
Performance and Handling
At any moment, you should be able to surge forward with all the force you need to dominate the highway. That's why the Nissan sedan packs a punch with its optional 3.5L V6 motor that assaults your path with 270 horsepower.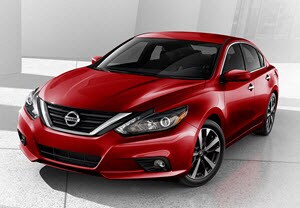 Plus, you can harness all that strength with the available paddle shifters with manual shift mode. With this feature, your car will transform from a road cruiser to an expert speed demon with the simple switch of a lever.
While the 2018 Honda Accord does offer up an optional engine, which is a 2.0L turbo, it only produces 252 horsepower. This will prove to be less spirited than what you'd find inside its Nissan competitor.
2018 Nissan Altima vs 2018 Honda Accord: Comfort
Your seat behind the wheel of your sedan should be all about you. Inside the 2018 Nissan, you'll have easy access to every control and button with the ergonomic seat position.
That way, you won't be forced to make any uncomfortable or unnatural movements. This chair's design also prevents you from dealing with a sore or strained neck after a long drive.
On top of that, all your friends and family will be able to unwind inside this automobile with its 40 inches of front headroom and 45 inches of front legroom. With those numbers, your guests can fully stretch out for the ultimate relaxation.
Alternatively, the 2018 Honda Accord doesn't quite match the comfort offered up by the Altima. That's because the cabin of this sedan only presents 39.5 inches of front headroom and 42.3 inches of front legroom.
Design and Style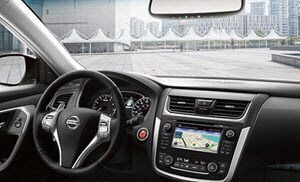 Every hard worker understands the importance of keeping up appearances. When you're in the driver's seat of the 2018 Nissan Altima, you'll keep heads turnings and jaws dropping.
That's because this sedan is designed to please the eye with its aggressive lines and attractive curves. Additionally, the front grille lends a sporty feel to the exterior and even comes with available shutters to increase wind resistance and efficiency.
On the other hand, the 2018 Honda Accord may have just been redesigned, but it still doesn't provide the same flashy architecture and commanding grille as its Nissan competitor.
2018 Altima vs Accord Vehicle Comparison: Verdict
Now that you've had a chance to read through this 2018 Nissan Altima vs. 2018 Honda Accord vehicle comparison created by the experts at Fred Beans Nissan, it's likely that you're ready to sail down the roads of Doylestown, Philadelphia, and Warminster.
With the 2018 Altima by your side for your daily commutes or your spontaneous adventures, you'll be equipped with everything you need to enjoy your time in the throne of this sedan.
Why hesitate and miss out on the opportunity to snag this automobile for yourself? Stop by our showroom right away, or schedule your test drive today!