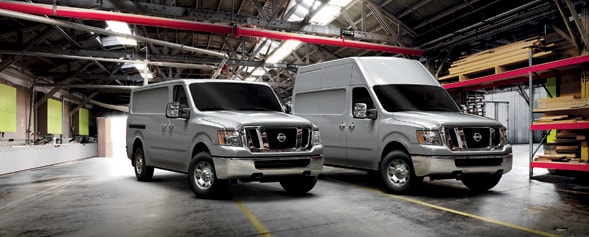 With the recent release of Nissan's much-anticipated Nissan Commercial Vehicles (NCV), Fred Beans Nissan of Doylestown is proud to be one of only 187 dealerships in the country to bring these incredible vehicles to the Doylestown area.
    Glenn Shelmire, the Commercial Sales Manager for Nissan of Doylestown, knows very well that having a Commercial Vehicle can really expand any company's business, and that any Commercial Vehicle needs to be two things: affordable and reliable. Any time that a company's Commercial Vehicle is out can cost them thousands of dollars each day, and that's why he's proud to be offering out the ever reliable, ever afford Nissan Commercial Vehicles.
    The NCV will feature sturdy body-on-frame construction and brawny engine choices, as it is built on a modified Nissan Titan full-size pickup chassis. Buyers will be able to choose between a 4.0-liter V-6, or a powerful 5.6-liter V-8, both of which will be paired to a five-speed automatic transmission.
    
    Available in either standard or high-roof body styles, the 2012 NV maximizes cargo capacity and opens up numerous possibilities for storage solutions. The high-roof model boasts enough internal height for most adults to stand up. The cargo area features a full-length inner panel to prevent shifting cargo from denting the vehicle's outer skin, as well as offering mounting points for shelving and rack solutions.
        Interested fleet and commercial buyers may call Glenn Shelmire at 215-345-6900 or email him at glennshelmire@fredbeans.com!
    Key Nissan NCV highlights include:
    Intelligent storage - NV lineup features pull-out storage trays under both seats, overhead compartments (standard on all high-roof models), places for pencils and business cards, multiple cup holders, and a convenient seat pouch for cell phones.
    Doors that go farther - The NV rear doors stay securely out of the way, swinging 243 degrees for an extra-wide, forklift-friendly opening. Specially designed magnets on the doors and sidewalls ensure secure holds, preventing the wind from slamming open doors shut.
    Power and Lighting - Offers available triple lighting for better visibility.
    Connected and powered-up - The NV has available hands-free Bluetooth® GPS and in-cabin 12V and 110V power outlet options. Available Bluetooth® Hands-free Phone System and available touch screen navigation. The NV lineup keeps devices charged with a 12V car outlet in the cabin and an available 110V outlet in the center console and cargo area.
    Logo and ID space - The NV has large side panels to accommodate large business signage and branding space.
    Higher headroom - The available "high-roof" NV model provides 6'2" of interior headroom and can accommodate taller delivery items or shipping containers.
    Cargo capacity - The NV Standard Roof offers 220+ cubic feet of cargo space, while the High Roof boasts more than 300 cubic feet of cargo space. With more than 52" between wheel wells and its long cargo space, the van can easily load 10-foot piping, two 40"X48" pallets or 4'X8' dry wall sheets flat.
    Squared-off walls - Shelves and drawers fit tight to maximize walk-through storage area. NV offers multiple integrated reinforced mounting points for shelving that eliminates the need for drilling into sheet metal.
    Side doors - A large sliding side door and fixed entrance handles help entering from the ground level.
    Mobile office - A versatile center console and surrounding compartments provide mobile office capabilities on the road and on-site. Features include ample, fitted space for hanging folders, clipboards, etc., and a secure sliding console lid creates a flat surface ideal for a laptop. All components are removable if extra space is needed. The NV lineup passenger seat folds down to provide an expanded desktop-like surface - perfect for computer, blueprints and paperwork.
    Seat durability - A protective patch on the seat covers prevents deterioration and special liquid-resistant material stands up to mobile meal mishaps.