Nissan Sentra


Quick Facts
Engine: 1.8-liter four-cylinder engine
EPA-estimated: 37 MPG Highway/ 29 MPG City
Passenger Space: 95.9 cubic feet
Technology: Remote keyless entry

Ford Focus


Quick Facts 
Engine: 2.0-liter four-cylinder engine
185 horsepower
EPA-estimated MPG: 34 MPG Highway/ 25 MPG City
Passenger Space: 90 cubic feet
There's no vehicle that delivers the kind of safety, efficiency and performance balance that you get from a solid small sedan. We may live in a world of crossovers and trucks, but these sleek cars still have a leading place on the roads of Doylestown, Philadelphia and Warminster. Of course, there are always some manufacturers whose vehicles define their class, and in this area, Nissan and Ford are always in competition.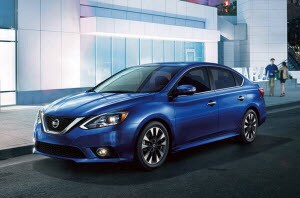 Each manufacturer delivers a fine car in terms of the 2017 Nissan Sentra and the new Ford Focus, but which one is the better car overall? Learn everything you need to know about small economy cars in this head-to-head battle between the new 2017 Nissan Sentra vs. Ford Focus sedans. Feel free to contact us for a quote.
| | | |
| --- | --- | --- |
|  Nissan Sentra |  VS |  Ford Focus |
|  37 Highway, 29 City |  MPG |  34 Highway, 25 City |
|  Available |  Remote Key Entry |  Unavilable |
Nissan Sentra vs Ford Focus: Performance
When you drive a small car, you want a lot of bang for your buck, and that means the best performance in terms of engine and fuel efficiency. In this area, the Sentra wins overall, but this is especially so in the area of fuel economy. The Sentra is driven by a 1.8-liter four-cylinder engine, matched to the Xtronic CVT with a special valve timing control system. This gives it an EPA-estimated fuel economy of 37 mpg on the highway and 29 mpg cruising city streets.
The Ford Focus has a beefier engine with a 2.0-liter four-cylinder, but when it comes to fuel efficiency, it completely loses out. It has only a base 5-speed manual transmission (and be prepared for an upcharge if you want automatic), which gives you only 34 mpg on the highway and a mere 25 mpg on the city roads.

Nissan Sentra vs Ford Focus: Interior Design 
It's obviously important to be comfortable wherever you go, and to do that you'll need plenty of space. Quite frankly, the Ford Focus underperforms in this area. It offers a total interior passenger space of 90 cubic feet, with just 13.2 cubic feet of trunk space for storage.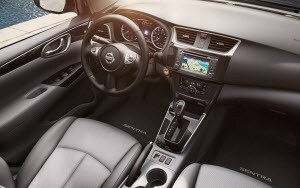 The Nissan Sentra, by comparison, offers outstanding roominess for a vehicle in this class. Passengers will have plenty of room to move around and be comfortable with 95.9 total cubic feet of space in the cabin. When it comes to storage, the Sentra also gives you lots more room for groceries with 15.1 cubic feet of room in the trunk.
In terms of amenities, both are pretty similar, offering 4-speaker audio systems with voice commands, USB ports, auxiliary audio jacks, cloth upholstery and manual adjustment for the driver's seat. However, the Sentra gives you remote keyless entry, a feature not available on the Ford Focus. Once again, the Sentra just edges out the Ford.

Nissan Sentra vs Ford Focus: Safety Ratings
Safety is just as important as any other aspect of a vehicle, and once again, the Nissan Sentra comes away a winner, having been awarded the IIHS 2017 Top Safety Pick designation for its overall features. The Focus, while it got good marks, wasn't up to snuff for that particular award.
The Winner: The Nissan Sentra at Fred Beans Nissan
The clear winner when you put the 2017 Nissan Sentra vs Ford Focus is the new Nissan Sentra. Stop into Fred Beans Nissan and test drive one on Philadelphia, Warminster and Doylestown roads today!